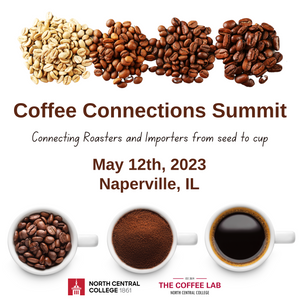 Coffee Connections Summit
Connecting Roasters and Importers from seed to cup
Hosted by North Central College Coffee Lab

Date: Friday, May 12th
Location: 309 E. School St., Naperville, IL
Time: 1 - 8 PM CT
Price: $50 
Join us for an afternoon and evening filled with the opportunity to learn from and network with coffee importers and roasters in the region.
Who should attend:
- Small & Medium size Importers
- Roasters
- Specialty Coffee enthusiasts looking to get more involved in the coffee industry
What's included:
- Panel Discussions 
- Small Group Discussions
- Meet & Greet Opportunity with Small Importers
- Dinner with coffee industry speaker
- Dessert Networking Reception
- Screening of Documentary "Visions of Coffee"
- Plenty of Coffee and Espresso!
Tentative list of coffee origins being represented:
- Colombia
- Costa Rica
- Ethiopia
- Guatemala
- Papua New Guinea

Once purchased, you'll receive an email confirmation that will allow you to finish your registration for the event. Make sure to watch your email!

Cancellation Policy:
Free cancellation through April 30th, 2023. May 1st - May 8th, 50% refund. No refund after May 8th. Registrations are transferrable and may be switched to another attendee for no additional fee. Cancellations and transfers must be requested by emailing coffeelab@noctrl.edu.